02/03/2018
"An example to all"   –The implementation of the "Tagang" System saw the riverine fisheries and natural resources protected and conserved.  The village is clean with various displayed signs & notices around as mentioned below:-
"Map of  Zone for the "Tagang" system area in Sarawak River Kiri, Danu village" that showed "Environment system with the distance of "Tagang" areas in Sarawak River, Kampung Danu – 1.5 Kilometer" The Tagang system is managed in collaboration with the Department of Agriculture. Signs displaying notices, such as, "Warning !! Do not throw rubbish everywhere. Keep the Village Area Clean "&" NOTICE: Prohibited on conducting activities like fishing, trapping and hunting of aquatic life in the river system of zone "Tagang" Sarawak Kiri, Benoa. Danu. With effect from 1 January 2015, the offenders shall be penalised and fined. Directive notice from the Tagang System Board Committee, Danu Village & Agriculture Department "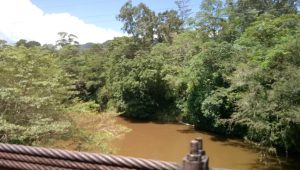 The water at Danu River, which comes from the Bengoh Dam is claimed to be polluted and unsafe for the village community to consume.
A pedestrian suspension bridge is linked to Danu Village.
A walkway below the bridge is provided for those waiting for a boat.
Danu River is a location for Kayaking and other adventurous activities for tourists who love nature.
The RCE Committee had a discussion with the Danu Village Headman, and explained to him about RCE's objective, vision and mission.  The team also received his support on the River cleanliness Project and awareness campaigning activities.  He shared his experience working together with the community and obtained their cooperation to operate and manage the village community social and economic welfare
He mentioned that in order to successfully lead the community and get their cooperation, he has to be a good role-model.
Villagers are involved in palm oil plantation and farming.
The "Tagang" system is a method used to conserve aquatic life in order to clean the river.  They also focus on preventing, controlling and reducing pollution of the rivers to preserve the natural environment for future generations.   It took them 3 years to clean the rubbish from the river and maintain its cleanliness.  RM200k fund was spent on a river and village environment cleanliness cleaning project.
Every year they organise a Safari event and they charge RM3.00 for each kayak rental.
The tourists are also advised and educated on the environment and river cleanliness of the village.
The Village Headman informed the RCE team that the community people rely on the mountain water supply for consumption.  As a result of experiencing lack of water supply and contaminated water due to the dam, the Kuching Water Board insisted that the village has to be provided with a clean water supply.